Ulepsz operacje wytwarzania elementów blaszanych
Rosnąca sterta odpadów blaszanych to cicha nagana dla inżynierów i producentów.
Blachy to metal (zwłaszcza aluminium) formowany w płaskie arkusze poprzez kucie, walcowanie albo wyciąganie. Są jednym z najpowszechniejszych materiałów konstrukcyjnych, ponieważ są wytrzymałe, lekkie i względnie tanie. Blachę można wycinać, giąć i formować w różne kształty.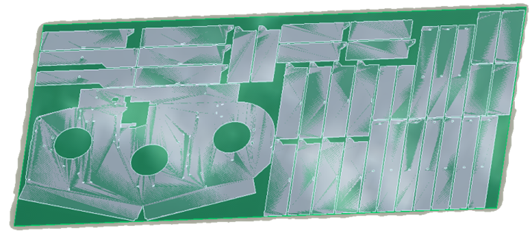 Najważniejsze problemy podczas pracy z blachami? Wydajne wykorzystanie materiałów i projekt zoptymalizowany pod kątem produkcji. Oprogramowanie Creo może w tym pomóc.
Rozszerzenie Creo NC Sheetmetal rozwiązuje problemy produkcyjne występujące na halach i pomaga Ci w ulepszeniu produktywności poprzez automatyczne tworzenie i optymalizowanie ścieżek narzędzi z pomocą standardowych narzędzi i wykrojników. Dzięki inteligentnemu zagnieżdżaniu natomiast możesz zmaksymalizować wykorzystanie arkusza blachy, obniżyć koszty odpadów i materiału oraz skrócić czasy realizacji.